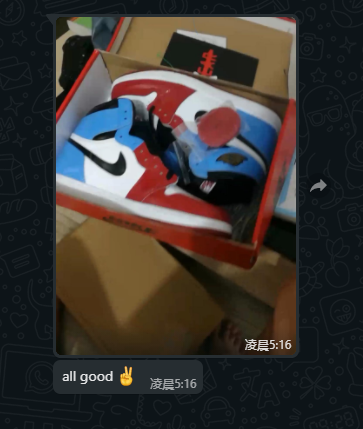 Og Tony customers are satisfied with the purchase of our products.
Thursday, 16 September 2021

0

959

0
This customer has become a regular customer of our shop. At first he became interested when he first learned about our shop. He asked us when the goods will be shipped and when the goods will arrive. Our customer service staff replied that the goods will arrive in about 15 days, but the ultimate deciding factor is the efficiency of the express delivery in the country of arrival. The customer bought the Jordan 1 series. After receiving the goods, except the plastic bag is a little dirty, the rest are very good. We solicited the customer's opinion on whether we can use his feedback to promote us, and got the customer's affirmative answer.
Seller contact
WhatsApp: +852 62186776
Instagram: @tonyshoeofficial
Email: tonyshoe100@gmail.com
A pair of $10 off, the discount code is "tony1"
Two pairs are discounted at $25, the discount code is "tony2"
Three pairs are discounted at $50, the discount code is "tony3"